2017 QB Rankings
1. Aaron Rodgers
Rodgers has finished as a Top 2 Fantasy QB in 7 of his last 9 seasons. He's the best in the game … Nuff' Said!
2. Tom Brady
Trying to explain who would be a better bet in 2017 between Rodgers and Brady kind of feels like the video below, although we give the edge to Rodgers.
3. Drew Brees
Extremely reliable regardless of the talent around him. Brees has finished with 600+ pass attempts in 9 of the previous 10 seasons! The table below is all we need to explain. By the way, he's only missed 2 games over the previous 12 seasons!
| | | |
| --- | --- | --- |
|   Year |   Fantasy Scoring |   Passing Attempts |
| 2016 | #3 | #1 |
| 2015 | #6 | #2 |
| 2014 | #6 | #1 |
| 2013 | #2 | #3 |
| 2012 | #1 | #2 |
| 2011 | #2 | #2 |
| 2010 | #6 | #2 |
| 2009 | #2 | #10 |
| 2008 | #1 | #1 |
| 2007 | #1 | #5 |
4. Andrew Luck
As of now, Luck has no timetable as to when he'll begin throwing after having offseason surgery on his throwing shoulder. Luck's had a colorful injury history over the past 2 years. Those major injuries include: Shoulder Sprain/Cartilage Tear (2015), Abdomen Muscle Tear Grade 3 (2015), Head Cranial Concussion Grade 3 (2016) and a Shoulder Labrum Tear (2016). Much, or all, of these injuries are due to the poor play of the Colts' Offensive Line production. In fact, the Colts Offensive Line ranked 28th in Pass Protection in 2016. This Offensive Line allowed the 2nd most QB hits in the NFL with 128, where Luck was sacked the 2nd most with 41 sacks! This poor play of the line also allowed Luck to be pressured 35% of the time, the leagues 31st worst on all dropbacks!
The concerning part is that INDI didn't do much to seriously address this weakness over the offseason. They're essentially relying on improvement to boost the production over this young line.
That said, Luck is extremely talented. He's scored at least 20 Fantasy Points in over half of his games played since 2014. The run game in Indianapolis is atrocious and their defense isn't much better. As a result, we expect Luck to come out firing on all cylinders. Unless their is significant news on his health as the season nears, don't hesitate on Luck in 2017.
5. Kirk Cousins
Coming off a QB5 Fantasy Finish throwing for the 2nd most yards in the NFL on the 4th most attempts, Cousin's looks capable of a repeat-or-better 2017 performance as he once again treks for a long term deal. The Redskin' offense is revamped, but loaded; according to HC Gruden "this offense runs through Jordan [Reed]." New WR addition Terrelle Pryor, an obvious breakout candidate, signed a 1-year deal with WAS. Pryor left the Dumpster Fire in CLE where he still managed to top 1,000 yards in his WR debut season. Alongside him will be 3rd year WR Jamison Crowder. Crowder looks to be the guy Cousins will lean on throughout the season. In 2016, in 8 games where Crowder saw atleast 6 Targets he had either a touchdown or 80 receiving yards in seven of those games.
Cousins lost DeSean Jackson and Pierre Garcon to free agency this season, but are still loaded in the receiving game with Reed, Pryor and Crowder. Expect another Top 5 finish for Cousins in 2017.
6. Matt Ryan
Ryan saw the best statistical season of his career in '16 under OC Kyle Shanahan throwing for a career highs in yards (4,944) and touchdowns (38) while a career low in INT's (7). Prior to 2016,  Matt Ryan has never finished higher than the QB7 in Fantasy Football. With new first-year NFL playcaller Steve Sarkisian at the helm in ATL we'd expect he'd use the same approach Shanahan used in '16. That being said, there are many concerns for statistical regression following Matt Ryan's 2016 MVP campaign.
1. Departure of OC Kyle Shanahan and addition of first-year NFL OC Steve Sarkisian.
2 Julio Jones' bothersome left foot. Jones underwent surgery for the 3rd time on this foot on March 6th 2017.
3. The Atlanta Falcons increasingly talented defense is primed for a breakout season. This is expected to dial back the Falcons' quick hitting aggressive offense.
Matt Ryan realistically won't be producing identical number in '17 and we expect a drop off in Fantasy numbers.
7. Russell Wilson
Marred by knee and ankle injuries in 2016,  Wilson played the majority of the season with his feet tied together where he rushed for a career low 259 yards (finishing as Fantasy QB 13.) Wilson blamed the majority of his injuries on being too bulky and less mobile, so he shed 15 pounds this offseason in an attempt to regain more mobility in the pocket. Wilson finished as a Top 3 Fantasy QB in the 2014 and 2015 seasons. Expect a bounce-back year in 2017.
The Seahawks travel the 4th furthest distance of NFL teams for the 2017 NFL season.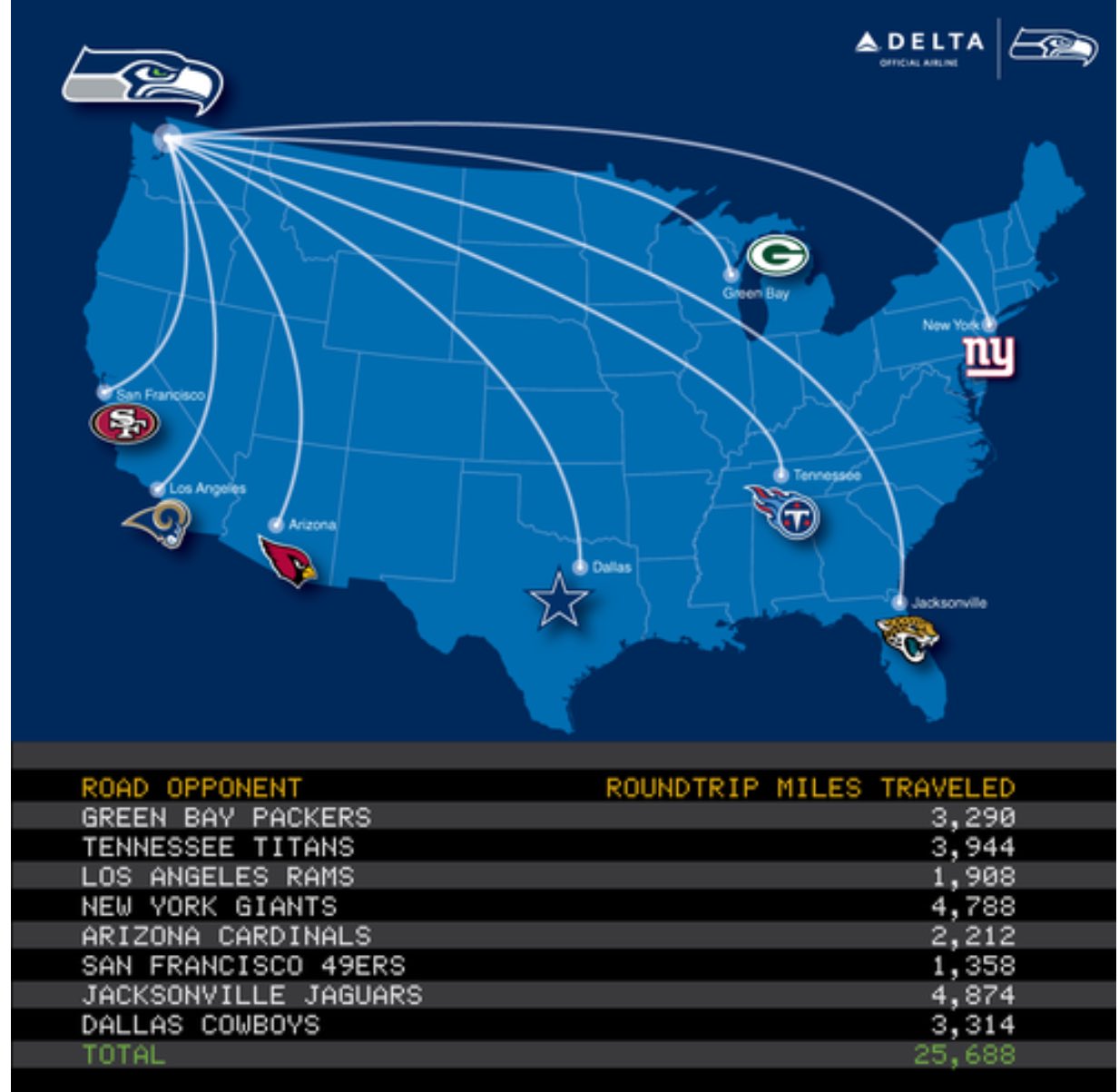 8. Matthew Stafford
Stafford showed much inconsistency in 2016,  scoring only 20+ Fantasy Points in 4 games and throwing multiple TD passes in only 7 games, a result of losing Calvin Johnson. Despite losing him, Stafford didn't see near the drop off in Fantasy Points as most expected, finishing as the 9th best Fantasy QB last year. Stafford has thrown 592+ pass attempts in 6 consecutive seasons, while finishing as a Top 10 Fantasy QB in 4 of the past 6 seasons. An improved and healthy Offensive Line for 2017 was obligatory for Detroit this offseason as Stafford was pressured nearly 28% on all drop backs while being sacked the 6th most of all QBs at 37 sacks. Expect a similar 2017 performance out of Stafford.
9. Derek Carr
Despite finishing 2016 with the 6th Ranked Offense, Oakland parted ways with former OC Bill Musgrave and replaced him with former QB Coach Todd Downing. One of the reasons why they made this move was due to the relationship Downing has with Carr, along with an expansion into more no-huddle plays in 2017. According to SilverAndBlackPride.com's research on Oakland's no-huddle utilization in 2016, they found that "of 1047 offensive plays ran, only 58 snaps (5%) were no-huddle. While defensive calls and game situation can certainly play a role, the offense did gain 2.6 more yards per play compared to when they huddled up. The run game wasn't really affected, only gaining 0.7 more yards per carry. It is in the passing game that the stats show an obvious improvement. Completion percent rose from 63% to 66% while yards per attempt jumped from 6.7 to 8.0. The number that really stood out was QB Rating which went from 93.3 in the huddle to 111.5 operating out of the no-huddle."
Carr missed out on a 4,000 yard season by 13 Yards in 2015 and 63 Yards in 2016. Carr's Yards Per Game have increased from 204 in 2014, to 249 in 2015 to 262 in 2016 with "Completion Percentage" also taking an uptick by 2-3% each season, even though he has regressed in Passing Attempts in each of his three seasons. Whew! What does this all mean? It means that Carr is becoming more efficient and Oakland is getting better and controlling the game more often each season. Of which, Oakland will give Carr more and more control of the offense.
Efficiency stacked with an elevated level of freedom and tempo should produce big numbers for Carr and we like him as a high upside option in 2017.
10. Jameis Winston
The 23 year old enters his 3rd year in the NFL with two 4,000 yard passing seasons under his belt, while throwing to Mike Evans… and, well,  talent like Adam Humphries, Josh Huff, a washed up Vincent Jackson and a rookie TE in Cameron Brate. Winston finished as the 16th best Fantasy QB last season, but the immediate upgrade in Offensive assets can't be overlooked! With new additions of WR2 DeSean Jackson and rookie TE O.J. Howard the Bucs Offense is certainly dynamic.
11. Dak Prescott
This is actually a real story … and great talking points for Cowboy Haters!
According to Darren Rovell of ESPN.com, "the Cowboys QB has been accused of using a machine to sign autographs for a memorabilia company for resale."
"They had a very machine like feel. You could see the starts and stops," said Steve Grad, principal authenticator of Beckett Grading Services. "I immediately knew they were autopen . . . . I've never heard of a modern athlete doing this."
NBC Sports writes, "there's been no comment so far from Prescott or his agents, but it makes him the second NFC East QB in the midst of a memorabilia scandal, along with Giants QB Eli Manning, who is accused of passing off gear as game-worn when it may not have been."
Switching gears back into reality, after somehow beating out teammate Ezekiel Elliott for "Rookie of the Year" in 2016, Prescott will enter 2017 with sky high expectations. What was most impressive about his rookie campaign was his TD/INT Ratio of 23/4, also adding 282 Rushing Yards and 6 TDs with his legs, totaling 29 on the season.
According to the online sportsbook at BET365.com, Prescott is 1 of the Top 5 favorites to win the NFL MVP in 2017. At 11-to-1 odds, Prescott has been given the same chances of winning MVP as Steelers QB Ben Roethlisberger with only 3 QBs having better odds, including Tom Brady 4-to-1, Aaron Rodgers 10-to-1 and Russell Wilson 10-to-1.
Dude … I want an autograph! Ha … (Fist Bump Emoji)
12. Marcus Mariota
If Mariota wouldn't have missed the Week 17 game of 2016 with a broken leg, he would have finished as the Fantasy QB 8 overall! However, finishing as the QB13 in 2016, the Titans bolstered their supporting cast for 2017 by signing WR Eric Decker and drafting stud WR Corey Davis and slot WR Taywan Taylor. Last season Mariota scored 20+ Fantasy points 7 times and was highly efficient throwing just 8 picks (8th lowest among eligible QBs.) One major red flag entering the 2017 season is the amount that Tennessee runs the ball. Last season they ran the ball 45% of the time (4th most in the NFL). Mariota has also missed 5 games in 2 seasons. Consider him a low end QB1 – High end QB2 heading into 2017.
13. Ben Roethlisberger
According to CBS Sports, "Roethlisberger ranked 33rd out of 39 QBs who attempted at least 20 passes after taking the snap from under center. He was 55 of 94 (58.5%) for 699 Yards with 4 TDs and 5 INTs outside the shotgun, for a rating of just 73.8. The only guys worse than him were RG3, Bryce Petty, Cam Newton, Brock Osweiler, Jay Cutler and Jared Goff."
The silver lining here is that Big Ben enters 2017 with an arsenal of weapons, with the planets finally aligning in Pittsburgh. What does that mean? For one, Roethlisberger will finally enter the season with a full cast including Antonio Brown, Martavis Bryant and Le'Veon Bell. Bell has only played 18 Games over the last 2 Seasons due to Injuries and Suspensions along with Martavis Bryant also dealing with a 2016 season long suspension.
Roethlisberger is leading one of the highest octane offenses in the NFL. Regardless of what he did outside of the shotgun, this guy has weapons galore and we fully expect a 4,000 Yard / 30+ TD Season in 2017.
14. Eli Manning
Manning's supporting cast is loaded with talent in 2017! OBJ, Sterling Shepard, Will Tye, Paul Perkins, Shane Vereen, recently acquired Brandon Marshall and 1st Round Draft Pick Evan Engram. It seems that Manning consistently is over-hyped and under-delivers or the fantasy community is simply writing checks that Eli can't cash. Within the last four seasons, Manning has averaged approximately 611 Passing Attempts. The talent is there, the volume will certainly be there, but if selecting Eli Manning, our advice would be to straddle the QB Position with another solid option. Manning can be volatile, having tossed 6 Multi-Interception games last season (16 INTs in 2016 / 4th Most in the NFL), along with 8 games with passing yardage either right around or under the 200 Yard Mark. You may be viewing our opinion on Manning and cry heresy based on surrounding talent and volume, but it's something to digest.
15. Philip Rivers
Coming off a strong season, Rivers threw for the 4th most TDs in the NFL with a lackluster of receivers. Heading into 2017, Rivers has arguably the best receiving corps in his career in Keenan Allen, Tyrell Williams, Mike Williams, Travis Benjamin, Hunter Henry and Antonio Gates. Since 2010 Rivers has thrown 541+ passes and hasn't finished worse than the QB12 since 2012. Given his ADP, he's worth the wait as a low end QB1/high end QB2 at the end of your draft.
16. Tyrod Taylor
Benched in Week 17 of the 2016 season, it's a surprise to see Taylor back in Buffalo. Taylor spent the majority of the season throwing the ball to garbage while WR Sammy Watkins sat out half the season.  With essentially no talent around him, Taylor still finished as the 9th best Fantasy QB in 2016. Much of Taylor's success in Fantasy was his ability to take command on the ground, where he rushed for 591 yards and 4 TDs (1,148 rushing yards in 2 seasons.) Taylor's success is directly correlated to the health of Sammy Watkins. For now, consider him a QB2 with low-end QB1 upside.
Taylor seems like the popular sleeper pick in 2017, but be sure to keep this in mind:
1 – Buffalo ranked 31st in Pass Protection in 2016
2 – If (and there's a high chance of this happening) Sammy Watkins gets hurt again, the Bills will be relying heavily on rookie WR Zay Jones, WR Andre Holmes and WR Corey Brown.
Here's a look at the 2016 Bills Target distribution:
| | |
| --- | --- |
| 2016 Bills Receiver/Target Distribution | |
| Receiver | Targets |
| Charles Clay | 87 |
| Robert Woods | 74 |
| Marquise Goodwin | 68 |
| LeSean McCoy | 57 |
| Sammy Watkins | 52 |
| Walter Powell | 25 |
| Justin Hunter | 24 |
17. Cam Newton
In 2016, Cam Newton played the majority of the season hurt. It began with a Week 4 concussion followed by a partially torn rotator cuff in his right (throwing) shoulder. As a result, Newton was horribly inaccurate his final 7 games of the season where he completed nearly 45% of his throws.  Newton underwent shoulder surgery in late March to repair that partially torn rotator cuff and began tossing the ball at the end of June.  Finishing as the Fantasy QB17 in 2016 Newton saw career lows in rushing yards per game (23.9) and rush attempts per game (6). Coach Ron Rivera admits Newton needs to scale back on running even more moving forward to preserve his health in the NFL.
That being said, the Carolina Offense looks anemic heading into 2017. WR1 Kelvin Benjamin was ineffective in 2016 failing to average 60 receiving yards per game finishing as the Fantasy WR20. WR2 Devin Funchess enters his 3rd year in the NFL and failed to take the job over 31 year old Ted Ginn in '16. Funchess totaled 371 receiving yards last season on 58 Targets catching 39% of the balls thrown his way. WR3 5'11/196 Curtis Samuel won't turn 21 until August. The speedy 20 year old can line up all over the field, but succeeded playing the slot and tailback position for Ohio State.
Greg Olsen is reportedly upset with the Panthers organization for not restructuring his contract. Olsen is the first TE in NFL history to post 3 consecutive 1,000 yard seasons. He's also started 80 consecutive games for Carolina. His current contract is nearly identical to offensive tackle Michael Oher's. So, don't blame Olsen for wanting to tear up his contract.
There's a lot stacking up against Cam Newton heading into the 2017 NFL season.
18. Carson Palmer
I'd rather drink an Arnold Palmer than draft Carson Palmer this season! At 37, it's surprising that Palmer actually heated up as the season went on last year. From Weeks 8-17, Palmer yielded a 19 TD / 9 INT Ratio, which is a redeeming outlook. That said, as  much as people tout Bruce Arians' vertical offensive approach, at the end of the day we're looking at John Brown who suffered much of 2016 with issues concerning his sickle-cell trait and a cyst on his spine, Michael Floyd is out of town, and on August 31st … Larry Fitzgerald will turn 34, which is nearly dated dead on to when WR Andre Johnson tapped out. This is ultimately David Johnson's team and the aerial side of the offense is a mystery. If I had a solid team, I personally wouldn't want to bank my season on the arm of Palmer with a questionable offense.
19. Andy Dalton
Dalton will FINALLY see a WR Corps at full health heading into the 2017 Fantasy Football season. Dalton tossed a career low in TDs (18) much due to A.J. Green, Tyler Eifert and Giovani Bernard combining to miss 20 games and the departure of Marvin Jones and Mohammed Sanu to free agency. With addition of Joe Mixon and John Ross, Dalton will have more than plenty of targets at his disposal.
Despite those addition, the biggest concern for a successful season is Cincinnati's Offensive Line. Last season, this Offensive Line ranked 26th in the league in Pass Protection. When Dalton was under pressure, his passer rating dropped to 57.1, which ranked 7th worst in the NFL. Even worse, when blitzed he posted a passer rating of 76.2, which ranked 4th worst in the NFL.
TO MAKE MATTERS WORSE…
The Bengals lost their two best Offensive Linemen RG Kevin Zeitler and LT Andrew Whitworth to free agency this offseason. With no major upgrade in these holes, the Bengals will have one of the worst Offensive Lines in football in 2017. Given Andy Dalton's lack of efficiency while under pressure and the current state of this offensive line, expect teams to take advantage of this exposed Offensive Line.  The upgrade in receiving corps isn't expected to outway the detriment to this line, therefor expect another decline in efficiency with Andy Dalton.
20. Carson Wentz
Wentz landed in a Doug Pederson Offense that's been quite anemic in the passing/receiving game. Last season, Wentz through for 16 TDs, only 8 of those TDs went to WRs. You can argue the poor play of Jordan Matthews, Nelson Agholor and Dorial Green-Beckham, however Doug Pederson's Offense has consistently ranked 26th, 27th and 28th in Passing Touchdowns over the last 3 seasons. Do you remember back 2014 when not a single WR for the Kansas City Chiefs caught a TD pass? Doug Pederson was the Offensive Coordinator that season. **WARNING** Alshon Jeffery owners!
21. Blake Bortles
22. Ryan Tannehill
23. Joe Flacco
Fantasy Finishes by Year:
2010: 10th.
2011: 17th.
2012: 14th.
2013: 19th.
2014: 13th.
2015: 26th.
2016: 20th.
The Ravens Passing Target's lost for 2017:
Steve Smith: 102
K. Aiken: 50
Dennis Pitta: 121
Justin Forsett: 28
K. Juszczyk: 49
Total TGTs lost: 350