C.J. CRON-CH It!
C.J. Cron – Cron is sizzling hot right now. He's currently 11 for 28 with 2 HR's and an OPS of 1.128. Those struggling Prince Fielder owners may want to look into C.J. Cron if he's still out there.
Jose Fernandez – The Marlins expect Fernandez to undergo season ending elbow surgery. As careful as they were with him, that type of injury is unpredictable, just ask Matt Harvey.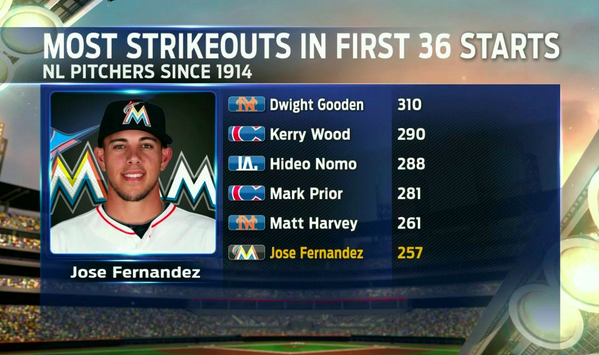 (Image via – FOX Sport MLB)
Andrew Heaney – A Top 10 LHP MLB Prospect, the Marlins Prospect has been excellent this year allowing just 1 run on 8 hits in 19 innings, and owns a 22/2 strikeout-to-walk ratio the past 3 games. The Marlins may look to skip his Triple-A stop and fast track the 22 year old to replace Fernandez.
Carlos Beltran – Hyperextended his right elbow and will be sent for an MRI. We figure for him to at the minimum miss a few games. With a deep outfield in NY, the Yanks will be patient with his return. Look for Ichiro to see more at-bats with his absence.
Ichiro Suzuki – Ichiro is quietly batting .364 this season. Although it's only through 55 at-bats, daily league owners may want to look his way for an off day fill in.
Rafael Montero – The Mets decided to go with Montero instead of Noah Syndergaard as a replacement for Mejia. Montero, the Mets Number 2 Prospect, will make his start Wednesday against Tanaka. This season he's posted a 3.67 ERA, 1.15 WHIP, and 48/18 K/BB ratio in 41 2/3 innings this season and is must add in NL Only Leagues.
Brett Gardner – A Grand Slam and a SB. If you spot started him vs Colon, congrats on doing some research.
Albert Pujols – 1 for his last 20 at-bats lowing his average to .268. I'll still take his 10 HRs and 26 RBI's. He faces Cliff Lee and A.J. Burnett the next 2 days.
Casey Janssen – Blue Jays Closer pitched a scoreless 9th inning to snap a 3-game losing streak. Sergio Santos is droppable, if you haven't yet done so.
Mark Trumbo – Trumbo is set to receive another CT scan on the stress fracture in his left foot this Friday.
Brett Lawrie – After 6 days off, Brett Lawrie returned with a HR and 2 RBI's while going 1 for 3 with a walk and 2 K's.
Eric Young – 3 for 5 with a Home Run and SB. Young is second in the MLB with 15 SBs. In other news, Dee Gordon notches 24 SBs.
Yangervis Solarte – Went 3 for 4 on Monday Night with 2 Runs Scored and an RBI. Solarte has been a consistent slugger this season for the Yanks tallying a .330 AVG, 21 RBIs, 15 BBs, 13 Runs and 2 HRs. Solarte is currently on a 7 Game Hitting Streak.
Aroldis Chapman – Hit 100 MPH 15 times on 21 pitches during his season debut. Holy Shnikes!
Jose Bautista – Joey Bats sent another one deep on Monday Night, totaling 10 HRs on the season, 28 RBIs and 32 Runs. Bautista is currently leading the MLB in BBs with 34. With an OPS at 1.002, Bautista is easily the MVP to start the season!
Chris Sale – Sale will begin a rehab assignment with Triple-A Charlotte on Thursday. It will be Sale's first game action in nearly a month. Sale will make another rehab start after Thursday's game before rejoining the White Sox rotation.
CC Sabathia – Will take the precautionary visit to Dr. James Andrew (knee) after being placed on the DL. CC has been everything but sharp this season. The recent MRI came back clean and showed fluid in his knee.